Understand the Basics of Deuces Wild Bonus Poker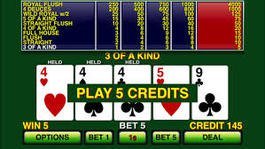 Deuces Wild Bonus Poker also referred as Bonus Deuces Wild at DMH Poker, is another popular poker variant which gives emphasis on the deuces wild combinations players need to complete to win. It follows the same game format of Bonus Poker patterned after Jacks or Better which rewards various payout values for four-of-a-kind combinations. It also gives an extra bonus of doubling the played wagers of players after every round of this poker variant.
Bonus Deuces Wild is also regarded them as the best video poker game for experienced players who want to up their poker gameplay. It also welcomes novice gamers who aim to increase their bankroll through its rewarding paytable. There are also lots of game reviews and features online which provide Deuces Wild Bonus Poker guides for its aspiring gamers. But before they even dwell on different winning tips and strategies, players should know the basic game mechanics and understand the rules of one of the industry's best video poker variants.
Bonus Deuces Wild Gameplay
Just like any other video poker game machines, players need to place their wagers in Bonus Deuces Wild before the game commences. They can place stakes between 1 to 5 coins depending on the US poker site they choose to play at. According to some experienced poker players, it is advisable to play with the highest coin value to maximize the value of the wager played.
If in case they land the best hand available in this game - which is the Royal Flush, players can win as much as 800 coins of their played stake. This payout is only achievable with the max coin wager per round.
Once the wagers are placed, the virtual dealer will deal five cards to the player. They can either keep all five cards or discard some of them which will be replaced by the dealer. Their final hands will determine the total amount they win. Players should understand that there are around 32 ways to achieve the best possible hand in Bonus Deuces Wild. Out of these 32 chances, only one will give them the best output and most rewarding payout.
The wild 2s or the deuces also play a vital role in completing the best winning hand. Just like any wild character in video game machines, it stands in for any card on hand to complete winning combinations. Wilds are essential cards to keep in building these winning Bonus Deuces Wild hands.
Bonus Deuces Wild Paytable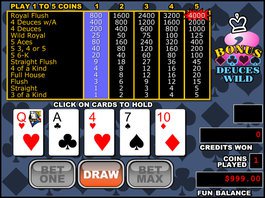 The Bonus Deuces Wild paytable is somehow similar to that of the Bonus Poker and Deuces Wild variants but differs in terms of its offered winning percentage. Compared with other poker variants today, it offers a huge 99.86% payback percentage whenever their players managed their gameplay strategies. This brings the house edge down to 0.14%, making Bonus Deuces Wild one of the most rewarding video poker machines today.
Players get the highest payout value with a royal flush hand which pays 800 to 1. The combination of four deuces and an ace reward 400 is to 1; while four deuces plus any other card gives 200 is to 1. Meanwhile, collecting five aces grant an 80 is to 1 odd; whereas five pieces of 3s, 4s, and 5s give 40 is to 1 payouts. They can also win with wild royal flush combinations rewarding an odd of 25 to 1, while another five same characters of any other card pays 20 is to 1.
Simple straight flushes, full houses, and flushes reward them a decent payout odds of 10 to 1, 4 to 1, and 3 to 1 respectively. Four-of-a-kind combinations also grant 4 is to 1 odd payout. The lowest paying hand combination belongs to the straight and three-of-a-kind which pay players an even money after the round.
Bonus Deuces Wild Strategies
It is important that players should always value the deuces or the wild 2s. Players should keep the deuces from the initial set of cards dealt by the dealer. Deuces are important cards in creating easy winning combinations. They may not be rewarding ones, but it still results in instant payouts. Players can collect up to four deuces in this game which can improve their existing hand combinations.