Tens or Better Video Poker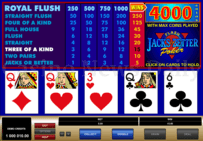 It is without a doubt that video poker is one of the most famous and entertaining game there is in the waging industry. It is a variation of the game poker, which further stemmed and gave existence to more games that every wager will craze about. One of the games that falls under the category of the game is the Tens or Better Video Poker. This game is just like any variant of the game at DMH Poker but, unlike those other variants it has the absence of wild card which may be disappointing for some but to cover it up, you'll definitely be surprise as this game packs quite a prize for various hands you may get.
First of all, this game is like the standard game and all you need to do is get a winning hand containing 5 cards which will be dealt to you from a deck with 52 cards. You will have the liberty to choose the best starting hand and discard the rest to try and get you the winning hand you're aiming for. For this, you'll be presented with keys like 'hold' and 'draw' which will retain the card you have while the latter will let you draw a card and there are times when both the buttons are integrated into one button.
The minimum bet at US poker sites is also 25 cents or 1 coin, while the maximum amount you can bet is 5 coins or $5. Of course, how much you bet will have an impact on how much you win, therefore it is fairly suggested for you to manage your bankroll and keep your bet in maximum so that you won't miss the highest payout in the case that you manage to snatch a winning hand.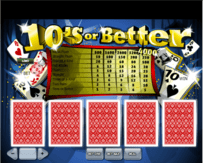 The most outstanding and staggering payout you will receive from the game is an astronomical amount of 4,000 coins which is definitely a great win considering the fact that the maximum bet for the game is $5. You'll be able to receive this amazing amount when you luckily possess the highest ranked hand in the game of poker which is the royal flush.
Other hands will also give you equivalent payouts depending upon the hand you possess which is then multiplied to how much you've bet. The Royal flush serves you with 800 payout, Straight flush guarantees you with 50, Four-of-a-kind will offer you 20, Full house will give you 6, Flush will give you 5, Three-of-a-kind will give you 5, Two Pair will serve you with 2, Tens or better will give you 1 while all the others left will give you nothing. Tens or better video poker will surely prove to be a common and easy game, but the prize you'll be able to receive will surely guarantee to make your time worth it.